Convict appeals 2010 football riots sentence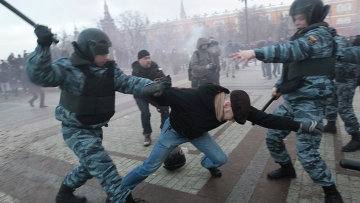 13:57 09/01/2013
MOSCOW, January 9 - RAPSI. The Moscow City Court has dismissed the supervisory appeal filed against the indictment of Igor Berezyuk, who was convicted of having participated in the 2010 Moscow riots waged by football fans and nationalists in the aftermath of the shooting death of one of their own a day prior.
This latest development was tweeted by Berezyuk's attorney Dmitry Agranovsky on Monday.
The attorney announced that he would turn next to the Supreme Court.
Agranovsky also filed a supervisory appeal with the Moscow City Court's presidium, but this too was dismissed.
In late September an application was filed with the European Court of Human Rights (ECHR) with regard to three individuals convicted of involvement in the riots, Igor Berezyuk, Ruslan Khubayev, and Kirill Unchuk.
The application was filed due to the violation of Article Six of the European Convention of Human Rights. Article 6 of the convention protects the right to a fair trial.
According to the prosecution, as many as 5,000 football fans and nationalists caused public unrest on December 11, 2010 in Moscow after a rally to commemorate FC Spartak fan Yegor Sviridov, who was shot dead on December 6, 2010. Thirty-two people were injured in the riots.
The Tverskoy District Court sentenced five individuals to prison terms ranging from two to five and a half years in October 2011.
In March, the Moscow City Court reduced the three defendants' sentences by several months.
Ruslan Khubayev received three years and nine months instead of four years.
Berezyuk had his sentence reduced by three months to five years and three months.
The court reduced Alexander Kozevin's sentence to two years and four months instead of two years and six months.