Sentences reduced in Moscow 2010 football fans riot case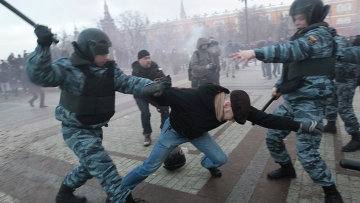 13:42 29/10/2012
MOSCOW, October 29 - RAPSI. The Moscow City Court has mitigated the sentences of Vitaly Vasin and Nikolai Dvoynyakov, two of the four defendants convicted in the case of Moscow's 2010 football riots, the court told the Russian Legal Information Agency (RAPSI/rapsinews.com) on Monday.
Over 5,000 football fans and nationalists took part in the riots in Moscow's Manezh Square on December 11, 2010 after a procession to commemorate the memory of football fan Yegor Sviridov, who was shot dead after a fight on December 6. Eventually, 32 people were injured, according to the Moscow authorities.
The court said Dvoynyakov's sentence has been reviewed and reduced by one month to one year and eleven months in prison, thus the term he has already served during the trial.
Vasin's term has been reduced by three months to two years and nine months of probation.
In August, the Moscow Tverskoy District Court found the defendants guilty of inciting mass unrest, disorderly conduct, inciting hatred, and using violence against law enforcement officers.
Investigative Committee spokesman Vladimir Markin said Dvoynyakov threw pieces of a metal fence at police officers, while Vasin aimed a traumatic pistol at them, and Grigory Bilchenko threw metal sticks at the officers and hit one on his helmet. At the same time, Vladimir Kirpichnikov kicked an officer who had attempted to make his way through the barrier.
The court sentenced five other individuals to imprisonment for periods ranging between two and 5.5 years in October 2011 in a related case.