Russia to transfer presidential plane crash wreckage to Polish lab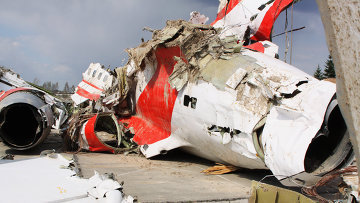 16:07 04/12/2012
WARSAW, December 4 - RAPSI. Polish experts will deliver fragments of the Tu-154 presidential plane from Russia to a Polish laboratory, Zbigniew Rzepa, the press secretary of Poland's Main Military Prosecutor's Office, reported on Tuesday.
Earlier, an analysis of the fragments sparked rumors that traces of explosives had been found. Then-President Lech Kaczynski, his wife and other officials died when the plane crashed near Smolensk in 2010.
"After being delivered to Poland, the samples will be sent to the police's central forensic laboratory in Warsaw, where special laboratory research will be held," he said. "Experts believe that the research activities will last from several months to six months."
The samples will be delivered to Poland on Wednesday.
The Polish Rzeczpospolita newspaper reported in October that the prosecutor's office found traces of TNT and nitroglycerine on 30 passenger seats and in sections where the plane's wings connected with the fuselage during a second inspection of the wreckage.
Remnants of explosives were also reported to have been found on the ground.The claim does not correspond with the official version of the investigation. The day they were released, military prosecutor's offices denied the information. Rzeczpospolita Editor-In-Chief Tomasz Wroblewski, Deputy Editor-in-Chief Bartosz Marczuk, journalist Cezary Gmyz, and Polish Department head Mariusz Staniszewski were fired after the claims were printed.
Rzeczpospolita later published a statement, announcing that responsibility had to be taken for the decision to publish the information, and the dismissals were made as a result.
The opposition believes the story was an act of provocation against the authorities aimed at discrediting Law and Justice party head Jaroslaw Kaczynski, according to Newsweek magazine.Kaczynski died in the crash on April 10, 2010, when the Polish Air Force Tu-154 attempted to land at Smolensk-North airport in Russia. Ninety-six people died in total.
The Interstate Aviation Committee (IAC) issued a final report in late July 2011, stating that the crash was caused by the crew's attempt to land in a thick fog in conditions of poor visibility. Additionally, the IAC said poor flight preparation and the inadequately qualified crew were the root cause of the tragedy.