Witness found dead in Polish presidential plane crash case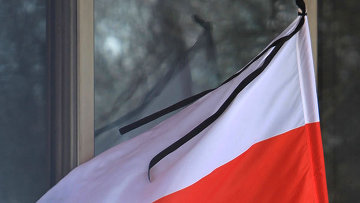 14:11 29/10/2012
MOSCOW, October 29 - RAPSI. A witness in the case of the Tu-154 plane crash in which Polish President Lech Kaczynski lost his life was found dead at his home in the suburbs of Warsaw, a Polish radio station has reported on October 29, citing Dariusz Slepokura, a Warsaw district prosecutor's office spokesman.
The official said the body of Remigiusz Mus, a flight engineer from a Polish Yak-40 airliner that landed in Smolensk an hour before the crash on April 10, 2010, was found dead by his wife in the basement of their home. Slepokura said the man had most likely hung himself. The decision on whether to perform an autopsy will be made on October 29.
In his testimony, Mus, who allegedly heard talks between the Smolensk-North airports dispatchers, said a flight operations officer on duty had allowed the plane to descend to a height of 50 meters despite a dense fog. The statement contradicted the official version of the events, according to which the traffic controller did not allow the plane to descend below 100 meters.
Mus said the Yak-40 airliner had also received permission to descend to an altitude of 50 meters. Antoni Macierewicz, the head of the Polish parliamentary commission investigating the crash, believes Mus was one of two key witnesses in the case. Artur Wosztyl, the pilot of the Yak-40, was the second witness. The commission head said he must now be taken under protection.
Kaczynski died in the crash on April 10, 2010, as the plane attempted to land at the Smolensk-North airport in Russia. Ninety-six people died, including the president, his wife, and various officials.
The Interstate Aviation Committee (IAC) issued a final report in July 2011, stating that the crash was caused by the crew's attempt to land in a thick fog in conditions of poor visibility. The IAC also said poor flight preparation and an inadequately skilled crew caused the tragedy.
In January, the Prague District Prosecutor's Office said the flight security level did not comply with the rules then set forth by the government's Protection Bureau. Experts uncovered that the individuals responsible for organizing Kaczynski's visit to Smolensk committed a number of violations that adversely affected the security of Poland's highest military and civilian leaders.