City Without Drugs petitions for Russian authorities to cease police pressure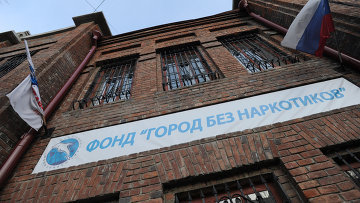 10:18 06/11/2012
YEKATERINBURG, November 6 - RAPSI. The City Without Drugs Foundation, after being searched as part of a criminal case, started gathering signatures from Russian residents for a letter addressed to Russian authorities on Monday.
On Friday, the foundation's office and the men's rehabilitation center located in Yekaterinburg were searched and the foundations head, Yevgeny Malenkin, was placed on a wanted list, as he was not home when his apartment was searched.
The foundation has started gathered signatures for a statement posted in the VKontakte social network, which reads that during its 13-year operation, the foundation conducted over 5,000 operations to combat drug crimes without getting any financial aid from the state.
"Recently City Without Drugs has been subject to pressure from authorities and law enforcement officers of the Sverdlovsk Region... We ask you to take the matter in hand and bring an end to the pressure on the foundation imposed by the regional authorities and law enforcement officers," the message reads.
"Tomorrow we will start gathering signatures all over the country," Yevgeny Royzman, who founded the City Without Drugs organization, wrote in his LiveJournal blog.
City Without Drugs has already been the subject of three investigations into the mistreatment of addicts undergoing treatment, including Tatyana Kazantseva, who died earlier this year after being taken to hospital following treatment for addiction.
Kazantseva, 29, complained of feeling sick on June 10 and seven days later was taken to hospital where she died. According to a spokesman for the foundation, Kazantseva died from meningitis. Following her death, several criminal cases were opened against City Without Drugs for illegally detaining addicts and using force against them.
Yevgeny Roizman, group's core founder and actvist has been leading the battle against the Urals drug trade for over a decade. He is a staunch supporter of former presidential candidate/billionaire playboy Mikhail Prokhorov and his "Citizen's Platform" political bloc.
The foundation has often come under scrutiny for its unconventional, allegedly often brutal rehabilitation methods. Roizman has repeatedly stated that he does not consider drug addiction a medical issue, but a form of moral degeneracy.