Police raid renowned rehab facility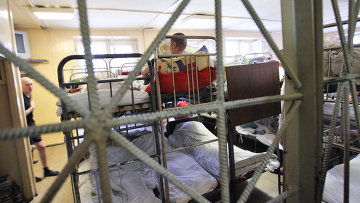 12:47 02/11/2012
YEKATERINBURG, November 2 - RAPSI. Investigators and shock squads raided the headquarters of the renowned City Without Drugs campaign group in Yekaterinburg on Friday, according to local police, without explaining what they were looking for.
"Today, November 2, staff from the Sverdlovsk Regional serious crimes squad…are undertaking a search as part of an investigation at several addresses in Yekaterinburg," the police said.
Searches are taking place at the anti-drug group's main office, a drug rehab center, and at the home of one of the group's directors.
The police said they were looking for "objects and documents" which could be of importance to an investigation, but did not elaborate.
City Without Drugs has already been the subject of three investigations into mistreatment of addicts undergoing treatment, including the death of one of them, Tatyana Kazantseva, who died earlier this year after being taken to hospital following treatment for addiction.
Kazantseva, 29, complained of feeling sick on June 10 and seven days later was taken to hospital where she died. According to a spokesman for the fund, Kazantseva died from meningitis.
© RIA Novosti, Kirill Kalinnikov
Yevgeny Roizman
A court later ordered Kazantseva's remains to be exhumed so that an autopsy could be performed.
Following her death, several criminal cases were opened against the fund for illegally detaining addicts and using force against them.
The news of the search was confirmed by the group's head, Yevgeny Roizman. "A search has begun at the fund," he said on his Live Journal blog. The group said it will lodge a complaint against the search, their lawyer Anastasia Uderevskaya said.
Roizman, reformed convict and patron of the arts, has been spearheading the battle against the Urals drug trade for over a decade. He is a staunch supporter of former presidential candidate/billionaire playboy Mikhail Prokhorov and his "Citizen's Platform" political bloc.
The fund often came under scrutiny for their unconventional, often dubbed brutal, rehabilitation methods. Roizman repeatedly stated that he does not consider drug addiction a medical issue, rather a form of moral degeneracy.