Ukrainian Security Service to investigate cases against Tymoshenko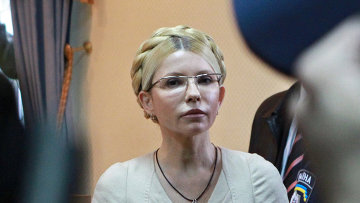 17:09 07/12/2011
KIEV, December 7 - RAPSI. The Ukrainian Security Service will investigate cases of state funds embezzlement, non-disclosure of foreign currency proceeds and tax evasion opened against former Ukrainian Prime Minister Yulia Tymoshenko, the Ukrainian Prosecutor's Office reported on Wednesday.
A Kiev district court sentenced Tymoshenko on October 11 to seven years in prison for abuse of power in signing gas contracts between Ukraine's Naftogaz and Russia's Gazprom in 2009.
Soon after the sentence was declared it was reported that tax police had resumed four criminal cases against Tymoshenko over tax evasion in late 1990s when she headed the United Energy Systems of Ukraine.
Tymoshenko has been charged with organizing a non-disclosure of foreign currency proceeds amounting to more than $165 million, public funds embezzlement and tax evasion in the amount of over 47 million hryvnias ($5.8 million). These four cases have been consolidated into one. Both her defense attorneys, opposition activists and Western experts believe her prosecution is driven by politics, while the authorities have denied such allegations.
The court decision has been appealed, the hearing date has been set for December 13.
The prosecutors also reminded that the case concerning attempted embezzlement of $405 million in debt that, the United Energy Systems of Ukraine borrowed from the Russian Defense Ministry in 1996, is pending.