UTICo $18.3 mln lawsuit against Tymoshenko filed in U.S. court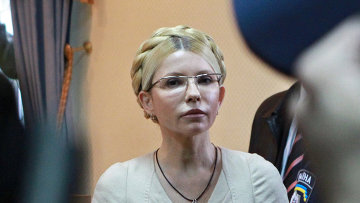 13:48 17/11/2011
MOSCOW, November 17 - RAPSI, Vladimir Yaduta. The U.S. Universal Trading & Investment Co. (UTICo), which has been seeking to collect over $18.3 million from United Energy Systems of Ukraine (UESU), has filed a complaint against former Ukrainian Prime Minister Yulia Tymoshenko in the U.S. District Court for the Southern District of New York.
The Russian Legal Information Agency (RAPSI) has received a copy of the complaint.
Tymoshenko brought it on herself
UTICo filed the complaint after the court denied its motion for intervention in the case of Tymoshenko versus RosUkrEnergo and its co-owner Dmytro Firtash.
Tymoshenko brought a putative class action suit against RosUkrEnergo and Firtash in April, claiming they conspired with "Gazprom to wrongfully appropriate approximately $1.7 billion worth of natural gas." She alleges that in doing so they violated several federal laws, in particular the Racketeer Influenced and Corrupt Organizations Act (RICO).
The action is connected with the so-called gas conflict that flared up between Ukraine and Russia in 2009.
After the two countries failed to reach an agreement on gas supplies and transit prices in December 2008, Russia cut off gas supplies to Ukraine and subsequently its transit to Europe via Ukraine, as Ukraine unlawfully siphoned off Russian gas to meet its own needs.
In January 2009, Gazprom and Naftogaz signed a contract and decided to work without the mediation of the Swiss-registered RosUkrEnergo gas transportation company, which later contested the right of ownership to 11 billion cubic meters of gas stored in Ukraine in the Arbitration Institute of the Stockholm Chamber of Commerce.
Tymoshenko alleges that the court yielded to Firtash's influence when declaring its decision that Naftogaz must return to RosUkrEnergo 11 billion cubic meters of gas confiscated in January 2009, and that it should deliver another 1.1 billion cubic meters of gas in damages.
Plaintiff's doubts
The Massachusetts-registered UTICo writes in the motion that "UESU's assets were converted, withheld and fraudulently transferred under Tymoshenko's and her privies' control" to Cyprus, through BVI assets, the Guernsey Island and the Isle of Man.
UTICo adds that the aggregate amount of UESU's fraudulently transferred proceeds placed under Tymoshenko's illegal control constituted approximately $2.27 billion, according to the Prosecutor General's Office in Ukraine.
According to UTICo, UESU's market advance was facilitated by former Ukrainian Prime Minister Pavlo Lazarenko, who was convicted in the United States and sentenced to nine years in prison and fined $10 million.
Lazarenko expected to "receive a 50-percent interest of UESU's ultimate illegal profits to be directed by Tymoshenko to his offshore accounts," the plaintiff writes.
UTICo's interference
Tymoshenko first contacted UTICo in July 1993 when she headed the Ukrainian Cube Ltd., which had a government contract with Ukraine for bartering ferrous metal exports in exchange for oil.
The first company to file a lawsuit in a U.S. court was not UTICo, but UESU. A Boston court refused to uphold its claim in 1997.
UTICo filed a counterclaim against UESU. It proceeds from its latest motion that the court granted its claims in February 2005. The court ruled that some $18.3 million in damages should be paid to UTICo, which has since tried to recover the sum.
In late 2005, when UESU's arrested assets were released, UTICo undertook several futile attempts to collect the abovementioned sum from the company and Tymoshenko's privies – in particular, her business partner Lazarenko.
UTICo writes that Tymoshenko used her leverage as the prime minister in March 2008, as well as the Supreme Court's decisions, to force "Ukraine's Prosecutor General's Office to close cases against UESU and to lift claims to UESU's assets."
UTICo tried to file a motion for intervention in the case of Tymoshenko versus RosUkrEnergo, but the New York court denied it in October. Unable to collect damages, UTICo filed a complaint "for the collection of the judgment entered by the U.S. District Court for the District of Massachusetts on July 7, 2005."
The reasons for the complaint include the allegation that Tymoshenko forwarded over $100 million in kickbacks and bribes to Lazarenko through correspondent accounts in New York for his assistance to UESU.
Tymoshenko's busy agenda
Meanwhile, four lawsuits involving Tymoshenko have been reopened in Ukraine for tax evasion in the late 1990s. Two concern Tymoshenko's control of UESU in the 1990s.
Ukraine's tax police has officially reopened the investigation into Tymoshenko's tax evasion to the tune of $2.5 million.
Her lawyer Sergey Vlasenko says the statute of limitations on these cases has expired and hence their reopening is unlawful.
On October 11, Tymoshenko was sentenced to seven years in prison for abuse of power by signing gas contracts with Russia in 2009. She is presently in custody.