Russian consulate concerned about Bout case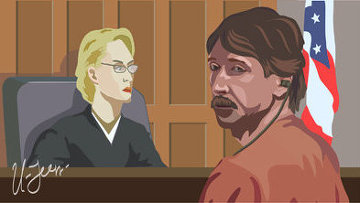 09:58 12/10/2011
NEW YORK, October 11 - RAPSI. Russia has expressed concern over the trial of Russian businessman Viktor Bout which began on Tuesday in New York, Russian Vice Consular Alexander Otchainov said after the hearing.
Bout was arrested in Thailand when on holiday and extradited to the United States. This fact provoked a great public outcry in Russia. The crimes Bout is charged with had not been comitted in the USA, which calls the legitimacy of the US jurisdiction into question.
Russia is also concerned about a conference-call held by Oxfam non-government organization for mass media where experts presented Bout as an arms dealer dangerous to the world.
Otchainov has also noted that Bout's wife Alla and his 17-year old daughter Liza, who came to the trial, were questioned and searched by the JFK airport security service for three hours.
The United States charged Bout with conspiring to kill Americans and US officials, illegal surface-to-air missile trafficking, and supporting terrorism through cooperation with the Colombian guerilla organization FARC. Bout has pleaded not guilty to all charges.