Tymoshenko's health in no danger - Ukrainian penitentiary service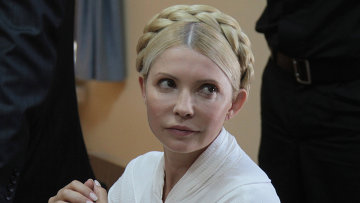 15:33 22/09/2011
KIEV, September 22 - RAPSI. Doctors found former Ukrainian Prime Minister Yulia Tymoshenko's health condition satisfactory, the penitentiary service reported on Thursday.
Tymoshenko has been kept in custody since August 5. Her attorneys said she was running a temperature and may be infected with tuberculosis.
Tymoshenko is visited by government-appointed doctors, but she rejects their assistance for lack of trust to them and requests her personal doctor.
According to the penitentiary service a group of Health Ministry doctors, including her personal physician, visited Tymoshenko on Wednesday. She refused having a comprehensive medical checkup.
The Ukrainian Prosecutor General's Office has charged Tymoshenko with abuse of power in approving a gas supply contract between the Russian Gazprom and Ukrainian Naftogaz in 2009, while she was serving as prime minister.