Tymoshenko finds no proof of own guilt in prosecution's materials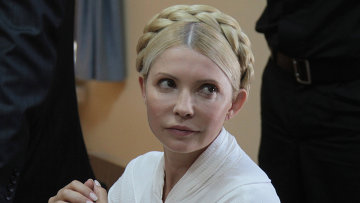 14:47 07/09/2011
KIEV, September 7 - RAPSI. Former Ukrainian Prime Minister Yulia Tymoshenko has stated that the prosecutor's office has yet to provide any proof that she committed a crime, RIA Novosti reports from the courtroom.

The Prosecutor Generals Office has charged Tymoshenko with abusing her power by signing gas supply agreements on behalf of Ukraine with Gazprom and Naftogaz of Ukraine in 2009, when she was prime minister. The prosecution claims the agreements were signed without duly executed government directives.

The former prime minister also said she is not obligated to prove her innocence.

"I am not obligated to prove my innocence. The Prosecutor General's Office must have provided proof that the approval of Naftogaz of Ukraine's directives is solely the governments prerogative," she said, adding that the Prosecutor General's Office has not provided such proof.

Tymoshenko also said neither the offices investigator nor the prosecution could explain what she is being accused of transparently. Only in court did it become evident that she has been accused of approving directives that could have only been approved by the government, during the gas talks.