Civic Chamber member proposes to capture society role in Russian Constitution preamble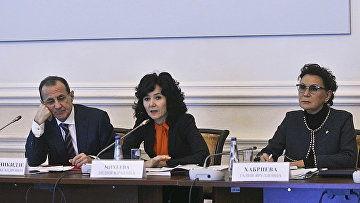 15:05 29/01/2020
MOSCOW, January 29 (RAPSI) – The secretary of Russia's Civic Chamber Lidia Mikheyeva believes it necessary to enshrine the role of civic society in the enacting clause of the Constitution.
Public hearings of a draft law on amendments to the Russian Constitution began in the Civic Chamber on Wednesday.
According to Mikheyeva, the working group during its meeting discussed a possibility of amending the Constitution's preamble. In addition to the role and place of civic society, the body's secretary proposed to fix importance and admission of the public service in it.
Director of the Institute of Legislation and Comparative Law under the Government of the Russian Federation Talia Khabriyeva in turn noted that the Constitution's enacting clause is addressed both to Russian citizens and international community. There is an important moment what a "valuable catalog" will be submitted to the world and Russians because many things changed after 1993 when the initial Constitution was adopted. According to the public figure, nobody thought that there would be such challenges as falsification of history and Russia's victory in the Second World War. Khabriyeva believes that now these points could be fixed in the preamble.
On January 23, the State Duma passed a bill on amendments to the Russian Constitution in the first reading.
President Vladimir Putin brought the bill before the parliament on January 20. He clarified the essence of the amendments proposed to the Constitution at a meeting with members of a working group established to elaborate the respective suggestions on January 16.
According to the President, the amendments are aimed to further the development of Russia as a social welfare state governed by the rule of law, as well as to achieve higher efficiency of its national institutions, strengthen the role played by its civil society, political parties, and Russia's regions in working out most important decisions concerning the development of the state.
Vladimir Putin stated that Russia was to remain a Presidential republic, but a more open one, where the significance of its Parliament was to grow, whereas interrelations of lawmakers with the government were to be strengthened.
The President was to retain serious powers to dismiss from their posts those violating the law and those failing to be scrupulous about their duties on the basis of loss of trust, Putin said.
The Head of the State believes that these powers were imperative due to the complex state structure of Russia, its multi-confessional and multi-ethnic nature, and vast territory.
The working group on preparation of proposals concerning amendments to the Constitution was approved by the President on January 15. Among its members are representatives of the Federation Council, State Duma and other public figures.