Russian lawmakers approve bill increasing liability for terror-related acts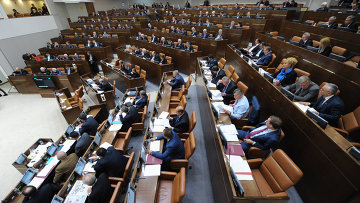 15:30 30/10/2013
MOSCOW, October 30 (RAPSI) – The Federation Council, Russia's upper house of parliament, approved on Wednesday a presidential draft seeking to impose criminal liability for the training of terrorists and the organization of extremist and terror cells.
The draft also proposes that the damage dealt by a terrorist attack should be compensated by the relatives of the attackers.
Furthermore, the draft establishes a basis for probing the assets of terrorists' relatives, if there are sufficient grounds to assert that such were acquired as a result of terrorist activity.
In accordance with the draft, if an individual is found guilty of receiving specialized training which could be used to carry out terror attacks, he could be sentenced for a period of time ranging between five and ten years in prison, with an imposed fine of 500,000 rubles.
Establishing a terrorist cell would be punishable with a jail term ranging between 15 to 20 years with a million ruble fine, according to the draft. Likewise, participating in a terrorist cell would be punishable with five to ten years in prison, and a 500,000 rubles fine.
The draft additionally seeks to elevate liability for the organization and/or financing of an illegal paramilitary group: from a two to seven year sentencing range, to three to ten year range after the bill enters into force.