Parliament allows minor debtors to travel abroad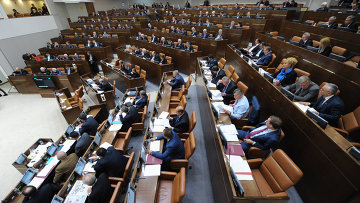 10:00 11/07/2013
ST. PETERSBURG, July 11 (RAPSI) - The Federation Council on Wednesday approved a bill allowing debtors to travel abroad if their unsettled fines, taxes and other obligatory payments do not exceed 10,000 rubles ($304) in total.
Previously, the legislation did not specify the sum of debt which could prevent people from traveling abroad. People could be stopped on the border even if their aggregate debts only amounted to a few hundred rubles.
One of the bill's authors, Nadezhda Shkolkina (United Russia), said many debtors cannot travel abroad because of non-existent tax arrears and other payments. She also expressed hope that the Federal Bailiff Service would work fast to computerize the payment of debts exceeding 10,000 rubles.
The new law also increases the amount of debtors' personal information held in the database of the Federal Bailiff Service.
The debtors' birth places are to be added to the database to minimize the number of potential mistakes involving people with the same personal data, which currently include the debtor's first and family names, patronymic and date of birth.