Draft resolution obliging MPs to declare their expenses submitted to Duma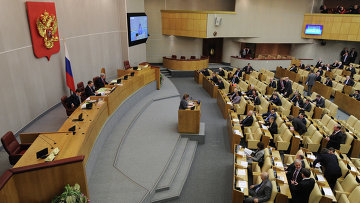 10:03 14/06/2013
MOSCOW, June 14 (RAPSI) - A draft resolution obliging deputies to declare their expenses by July 1, in accordance with a presidential decree, has been submitted to the State Duma, RIA Novosti learned in the lower house on Thursday.
MPs may also be required to submit an informal document which sets out legal grounds for their acquisition of any foreign government securities, bonds and shares of foreign issuers, immovable property, as well as the sources of their funds for the purchase of the above if the acquisition was billable.
MPs will also have to declare income from their primary employment, as well as their spouses', and income from any other legal operation, bank accounts and deposits with any other lending organizations, savings from previous years, inheritance, gifts, loans, mortgage, income from the sale of property, etc.
Sergei Popov (United Russia), chair of the State Duma Rules Committee, told RIA Novosti that the deputies will only report on expenses that exceed their total income for the past three years, the income of their spouses and underage children.
The information will be sent to the State Duma commission that monitors the credibility of information about the deputies' incomes and property.
The draft resolution is planned to be considered on June 18.
Commission Chairman Nikolai Kovalyov earlier told journalists that many deputies voluntarily attached informal reports on their expenses to their income declarations.