Duma may require officials to declare expenses at fall session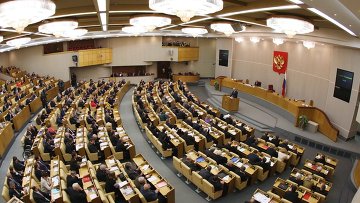 16:57 29/08/2012
MOSCOW, August 29 - RAPSI. The State Duma may pass during its Fall session a presidential bill aimed at monitoring both the expenses and incomes of state employees, Vladimir Vasilyev, who heads the Duma Commission on the Reliability of Income and Property Information, told journalists Wednesday.
He said the law will be amended to enable prosecutors to go to court. Officials will be prosecuted if they are found to have omitted property from their declarations, or if their property is more expensive than they can afford.
"Property will also be seized for the state budget," Vasilyev added.
The idea of controlling officials' expenses was a move against corruption proposed by now Prime Minister Dmitry Medvedev during his State Duma address as president in December.
Under the bill, the President, federal ministers, state deputies, Central Bank Board members, state employees, and state corporation and pension fund officials will be obliged to produce upon request information about their expenses and the expenses of their family members.
The bill will also apply to foreigners employed in public positions.
If an official's expenses are found to be larger than his income over the past three years from his primary job, prosecutors will seek to dispose of the illegally purchased assets for the state's benefit in court.