Prosecutors' asset forfeiture claim against Zakharchenko not to be reconsidered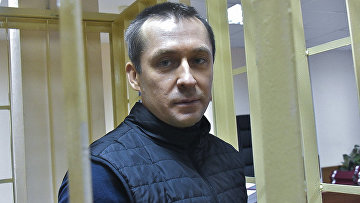 10:55 16/03/2020
MOSCOW, March 16 (RAPSI) – Moscow's Nikulinsky District Court on Monday refused to reconsider a prosecutors' claim to forfeit assets of convicted ex-colonel Dmitry Zakharchenko and his relatives to the state upon newly discovered evidence, lawyer Alexander Gorbatenko told RAPSI.
According to Zakharchenko's defense, the Presnensky District Court, which issued a ruling in the case against the former anti-corruption official, failed to establish the receipt of money by the defendant that was a reason for reconsideration of the asset seizure matter.
The court did not recognize the funds seized by the Prosecutor General's Office as material evidence that's why the claim must be reheard upon newly discovered facts, Gorbatenko told RAPSI earlier.
In December 2017, assets worth over 9 billion rubles (over $121 million) were seized from the family of Zakharchenko. Moreover, 27 property items including apartments, garages, cars, a gold bar were forfeited to the state.
Ex-Russian anti-corruption official Zakharchenko was arrested on September 8, 2016. During searches at his sister's apartment law enforcement officers found around 9 billion rubles ($140 million). He denied any relation to the seized funds.
In June, Moscow's Presnensky District Court sentenced Zakharchenko to 13 years in high-security prison for 3-million-ruble corruption crimes and obstruction of the investigation. Additionally, the defendant was ordered to pay a 117-million-ruble fine ($1.8 million), stripped of his police colonel rank and prohibited from holding law enforcement posts for 2 years.
However, the court acquitted him of a $500,000 bribery count.
The defendant pleaded not guilty.