New charges brought against ex-police colonel Zakharchenko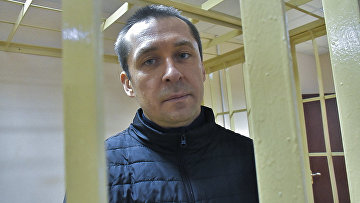 16:34 27/02/2020
MOSCOW, February 27 (RAPSI) – Investigators brought new corruption charges against Dmitry Zakharchenko, sentenced to 12.5 years in a penal colony for taking bribes and obstruction of justice, his lawyer Valeria Tunnikova told RAPSI on Thursday.
The lawyer insists that the new charges are to be challenged as, she alleges, they have been brought in violation of her client's rights. According to Tunnikova, Zakahrchenko was not provided an opportunity to voice his opinion about the charges as there were no interrogations, expert reports, or face-to-face meetings with witnesses.
Investigators inform that Zakahrchenko has been freshly incriminated with bribe-taking on an especially large scale.
Zakharchenko was sentenced in June 2019 by the Moscow City Court to 12 and a half years in prison and a 117 million rubles (about $1.8 million) fine after he had been found guilty of corruption charges and obstruction of justice. The former policeman still does not admit guilt.
However, the court acquitted him of a $800,000 bribery count. The court held that these charges against the defendant were not proven. Investigators claimed that in 2014 Zakharchenko and his accomplice initiated audit of restaurant business. The check was completed when Zakharchenko received $800,000 from a businessman, they insisted.
Ex-Russian anti-corruption official was arrested on September 8, 2016. During searches at his sister's apartment law enforcement officers found around 9 billion rubles ($140 million). He denied any relation to the seized funds.