Zakharchenko's suit against detention authorities set for February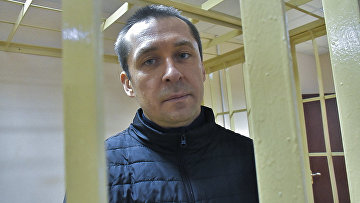 13:55 28/01/2020
MOSCOW, January 28 (RAPSI) – Moscow's Lefortovsky District Court has scheduled a lawsuit filed by the convicted former anti-corruption official of the Interior Ministry Dmitry Zakharchenko against a detention facility administration over posting to the preventive accounts for February 19, RAPSI reports from the courtroom.
Zakharchenko asks the court to declare the detention commission's decision saying that he has a tendency towards escape and violence against law enforcement illegal. According to lawyer Alexander Gorbatenko, on November 7, 2019, his
client and he were given the relevant commission's report based on the comments of other inmates. The lawyer said that Zakharchenko was not involved in violations and incidents when being held in detention.
Ex-Russian anti-corruption official Zakharchenko was arrested on September 8, 2016. During searches at his sister's apartment law enforcement officers found around 9 billion rubles ($140 million). He denied any relation to the seized funds.
In June, Moscow's Presnensky District Court sentenced Zakharchenko to 13 years in high-security prison for 3-million-ruble corruption crimes and obstruction of the investigation. Additionally, the defendant was ordered to pay a 117-million-ruble fine ($1.8 million), stripped of his police colonel rank and prohibited from holding law enforcement posts for 2 years.
However, the court acquitted him of a $500,000 bribery count.
The defendant pleaded not guilty.