Moscow court extends house arrest for former head of Seventh Studio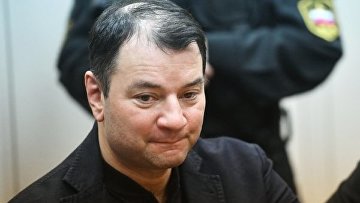 13:59 16/07/2018
MOSCOW, July 16 (RAPSI) – The Moscow City Court has extended house arrest of Seventh Studio stage company's ex-head Yury Itin charged with embezzlement of 200 million rubles ($3.2 million) for two months, RAPSI correspondent reports from the courtroom.
The defendant is to stay under house arrest until September 18. Investigators believe that Itin needs more time to read all case documents.
The criminal case is related to embezzlement charges against the Gogol Center theater director Kirill Serebrennikov.
Investigators claim that Itin, ex-general producer of Seventh Studio stage company Alexey Malobrodsky, and former Seventh Studio chief accountant Nina Maslyayeva were falsifying data for the Platforma project's plans in 2011-2014 on the request of Serebrennikov. This data was provided to the Ministry of Culture as the rationale for financing from the state budget.
Serebrennikov was arrested in late August 2017 and then placed under house arrest. In early November, Moscow's Basmanny District Court seized his assets including apartment, car, and money in the amount of more than 360,000 rubles ($6,000), over €60,000, and $4,000.
Investigators believe that he was the organizer of the budget money embezzlement. He allegedly created Seventh Studio stage company to actualize the Platforma project for promotion of art and invited other defendants into the organization. The defendant denied wrongdoing.