Moscow court to examine lawfulness of Seventh Studio managers detention on September 6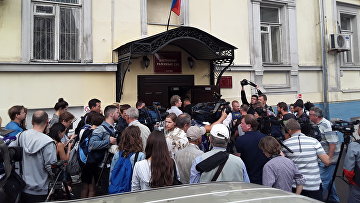 14:59 31/08/2017
MOSCOW, August 31 (RAPSI, Yelizaveta Ponomareva) – The Moscow Basmanny District Court is to examine an appeal against the detention of former managers of the Seventh Studio stage company suspected of embezzling 200 million rubles (about $3.5 million at the current exchange rate) on September 6, Yunona Tsareva, the court's press secretary told RAPSI on Thursday.
Former head of the company Yury Itin, ex- general producer Alexey Malobrodsky, and former chief accountant Nina Maslyayeva have been charged with large-scale fraud.
Malobrodsky is charged with embezzling 2.3 million rubles (about $38,700) allocated for organization of the "Platforma" festival. The defendant denies his guilt, although he has agreed to cooperate with investigators in the case.
The court detained the ex-producer on June 21, even though Malobrodsky's lawyer asked to dismiss this motion, claiming that some of the facts mentioned in the indictment were not true. In particular, according to the indictment, "A Midsummer Night's Dream" play funded by state money was not performed; nevertheless, some specialized theater journals contain articles and reviews evidencing that the play was performed at "Platforma 2015" festival. The evidence presented by the defense also included a letter from ex-minister of culture Ivan Demidov thanking one of the defendants in the case, artistic director Kirill Serebrennikov, for organizing the festival.
On June 8, ex-chief accountant of the Seventh Studio company Nina Maslyayeva, who, investigators claim caused damage estimated to make about 1.3 million rubles (about $23,000), pleaded guilty and agreed to cooperate with investigation. Allegedly she testified against Malobrodsky as well.
On May 23, police raided the Gogol Center, a popular contemporary theater in Moscow, as part of investigation into the case. Searches have also been conducted in premises of the theater's artistic director Serebrennikov. Later, he was questioned as a witness in the case.
According to investigators, unidentified persons from management of the Seventh Studio, a stage company created by Serebrennikov on the basis of his acting and directing course in the Moscow Art Theatre School, embezzled 200 million rubles (about $3.5 million) allocated by the government for development and popularization of art in Russia from 2011 to 2014.