Ex-VIM Airlines CEO, chief accountant to stay detained in embezzlement case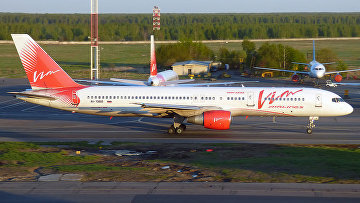 15:59 02/04/2018
MOSCOW, April 2 (RAPSI) – The Moscow City Court has upheld a ruling to extend detention for ex-CEO of VIM Airlines Alexander Kochnev and chief accountant Yekaterina Panteleyeva charged with embezzlement, the court's press service has told RAPSI.
The defendants will remain in jail until May 28.
According to investigators, VIM Airlines official continued to sell tickets to clients despite being aware that the airline was not able to transfer passengers because there were not enough funds to buy fuel. Investigators believe that the employees embezzled more than one million rubles ($17,000).
Kochnev and Panteleyeva have been arrested as part of the case. Co-owners of VIM Airlines Rashid Mursekayev and Svetlana Mursekayeva fled Russia and are currently residing abroad, according to investigators. Allegedly Mursekayev and Kalashnikova fled Russia to hide from investigative authorities. In December, the Basmanny District Court of Moscow issued an arrest warrant for Mursekayev in absentia.
The head of the Federal Air Transport Agency (Rosaviation) Aleksandr Neradko has been questioned as part of the case.
Investigators also believe that between 2015 and 2017 the defendants abused their office positions to buy overpriced aviation fuel from companies controlled by Mursekayev.