Russian Credit Bank demands $67.8 million from VIM Airlines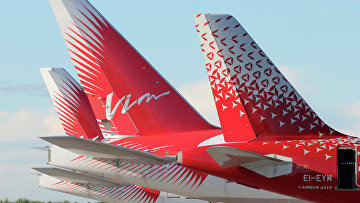 12:59 30/03/2018
MOSCOW, March 30 (RAPSI) – The Russian Credit Bank has filed an application with the Commercial Court of Tatarstan seeking to include a 3.9 billion-ruble ($67.8 million) debt owed by troubled VIM Airlines into the list of creditors' demands, the court documents read.
The application will be heard on May 3.
Also, VIM Airlines has appealed February 19 ruling of the court initiating monitoring procedure against the company. Hearings over the bankruptcy of the airline is to commence on June 14.
According to a representative of VIM Airlines, the company has enough property to pay debts, and it expects additional 500 million rubles ($8.6 million) to be transferred from the budget.
In December 2017, the airline's CEO Vyacheslav Kononenko said that the company is facing a serious problem in that it can't pay salaries because of debts before the FTS reaching 500 million rubles ($8.8 million). According to Kononenko, all funds transferred to the airline's accounts are automatically blocked and transferred to tax authorities.
Earlier this month, the Federal Tax Service of Russia (FTS) filed an application with the court seeking to include a 333.3-million-ruble debt (5.8 million) in the list of creditors' claims.
A representative of the Russian Credit Bank said that the company owed it over 100 million rubles ($1.7 million) and that two parties are currently negotiating the settlement.
On October 17, 2017, a criminal case was launched over premeditated bankruptcy of VIM Airlines.
Investigators believe that certain top managers and owners of the air carrier intentionally made losing bargains in 2016 and 2017 including those aimed at siphoning of assets abroad. The deals led to enormous financial outlay and undoubtedly resulted in the company's failure to pay debts to creditors in full.
According to investigators, employees of the VIM Airlines continued to sell tickets to clients despite being aware that the airline was not able to transfer passengers because there were not enough funds to buy fuel. Investigators believe that the employees embezzled more than one million rubles ($17,000).
VIM Airlines CEO and chief accountant, Alexander Kochnev and Yekaterina Panteleyeva, have been arrested as part of the case. Co-owners of VIM Airlines Rashid Mursekayev and Svetlana Mursekayeva fled Russia and are currently residing abroad, according to investigators. Allegedly Mursekayev and Kalashnikova fled Russia to hide from investigative authorities. In December, the Basmanny District Court of Moscow issued an arrest warrant for Mursekayev in absentia.
Investigators also believe that between 2015 and 2017 the defendants abused their office positions to buy overpriced aviation fuel from companies controlled by Mursekayev.