Investigation into gang behind gyrfalcon poaching complete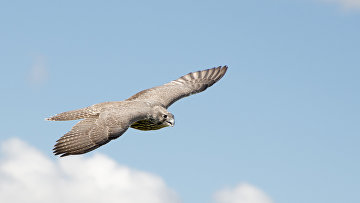 11:59 15/01/2018
MOSCOW, January 15 (RAPSI) – Investigators in the Kamchatka Region of Russia have completed investigation into a criminal case over poaching and unlawful capture of an endangered species, gyrfalcons, the press-service of the regional Investigative Committee department has stated.
The investigation was completed after an alleged organizer of the gang was apprehended. He is charged with poaching committed by an organized group and using forged passport of a Russian citizen.
In June of the last year, a Russian court sentenced eleven people to punishment varying from suspended terms to 2.5 years in penal colony as part of the case. The defendants were found guilty of illegal capture, keeping, procurement, transportation and trading of especially valuable wild animals and aquatic biological resources which are listed in the Red Book of endangered species.
The court found that from June till November 2016, an organized criminal group caught 17 wild gyrfalcons in the Olyutor District of Kamchatka. Birds, listed in the Red Book of endangered species, were then kept in captivity and later released into their natural habitat when the group members were busted.
The alleged mastermind of the crime has been hiding in Crimea until July 2017. Later he was apprehended and transported to the Kamchatka Region. He admitted his guilt. Allegedly he provided the gang with poaching equipment and managed two groups through satellite uplink while remaining outside region.
According to investigators, actions of the gang caused damage valued at more than 73 million rubles ($1.3 million) to the Russian Federation.