Ukraine puts Saakashvili on wanted list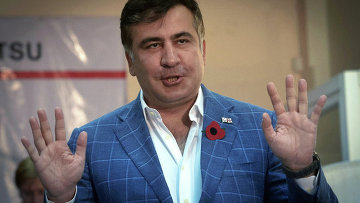 10:43 06/12/2017
MOSCOW, December 6 (RAPSI) - Ex-Odessa governor Mikheil Saakashvili was put on the wanted list, the spokesperson of Ukraine's Prosecutor General Larisa Sargan wrote on her Twitter account on Wednesday.
According to Sargan, Saakashvili is suspected of crimes committed under three articles of the country's Criminal Code including "Attempted crime", "Crime committed by a group of people", and "Assistance to criminal gangs and cover-up of their criminal activity".
Moreover, Kiev prosecutors opened probe into obstruction of law enforcement officers' actions during arrest of Saakashvili.
On Tuesday, searches were conducted in the apartment of Georgia's ex-President in Kiev. He was arrested on the roof of his house. Later, his supporters freed Saakashvili by force.
On December 3, a protest march of the Movement of New Forces party led by Saakashvili was held in Kiev. Protesters called for impeachment of Ukraine's President Petro Poroshenko.
In July 2017, Poroshenko stripped Saakashvili, who was appointed the Odessa region governor in May 2015, of his Ukrainian citizenship. However, Saakashvili said in August that he is going to come back to Ukraine from Poland on September 10, 2017.
A criminal case over illegal border crossing was opened in Ukraine after Saakashvili broke through the country's border, the Ukrainian police reported on September 11. Eleven police officers were injured during the security operation near a border crossing checkpoint, according to police.
On September 22, a court in Ukraine found ex-Odessa governor guilty of illegal border crossing and fined him 3,400 hryvnia (about $130).