Saakashvili fined $130 for illegal crossing of Ukrainian border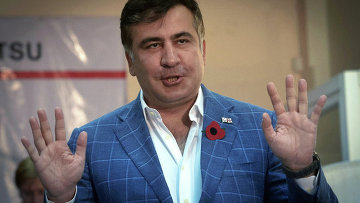 22:18 22/09/2017
MOSCOW, September 22 (RAPSI) – A court in Ukraine on Friday found ex-Odessa governor Mikheil Saakashvili guilty of illegal border crossing and fined him 3,400 hryvnia (about $130), according to court video records.
Saakashvili was also ordered to pay court fees in the amount of 320 hryvnia.
Saakashvili did not appear before the court. Earlier, he claimed that he had not violated the Ukrainian law during crossing of the border.
A criminal case over illegal border crossing was opened in Ukraine after Saakashvili broke through the country's border, the Ukrainian police reported on September 11. Eleven police officers were injured during the security operation near a border crossing checkpoint, according to police.
In July 2017, Ukraine's President Petro Poroshenko stripped Saakashvili, who was appointed the Odessa region governor in May 2015, of his Ukrainian citizenship. However, Saakashvili said in August that he is going to come back to Ukraine from Poland on September 10, 2017.
In early September, Georgia asked Ukraine to arrest and extradite Saakashvili for the third time. Ukraine's Deputy Justice Minister Sergey Petukhov confirmed that the request was received. Georgia has provided guarantees that the request is not politically motivated and Saakashvili's rights and freedoms would not be violated, the Ukrainian official added.
Earlier, Georgia sent the Ukrainian Prosecutor General two requests for the arrest and extradition of Saakashvili. Ukraine refused to extradite former President of Georgia because charges against him are politically motivated, the Ukrainian Prosecutor-General's office said.