Georgia again asks Ukraine to extradite ex-president Saakashvili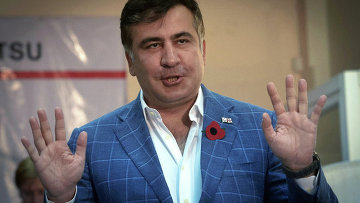 16:33 05/09/2017
MOSCOW, September 5 (RAPSI) – Georgia has again asked Ukraine to arrest and extradite former president Mikheil Saakashvili, the Georgian Prosecutor's Office announced on its website on Tuesday.
Ukraine's Deputy Justice Minister Sergey Petukhov confirmed that the request was received. Georgia has provided guarantees that the request is not politically motivated and Saakashvili's rights and freedoms would not be violated, the Ukrainian official added.
Earlier, Georgia sent the Ukrainian Prosecutor General two requests for the arrest and extradition of Saakashvili. Ukraine refused to extradite former President of Georgia because charges against him are politically motivated, the Ukrainian Prosecutor-General's office said.
In 2014, the Main Prosecutor's Office of Georgia brought several charges against Saakashvili in absentia. The charges include spending $5 million in public funding for personal needs, abuse of power during the dispersal of a November 7, 2007 demonstration, the beating of ex-deputy Valery Gelashvili, and the murder of Sandro Girgvliani, an employee of the United Bank of Georgia, in 2006.
Saakashvili left Georgia when the country's new president, Georgy Margvelashvili, assumed office in November 2013. He has refused to answer questions from or otherwise cooperate with Georgian law-enforcement agencies. He has been put on the national wanted list.
In July 2017, Ukraine's President Petro Poroshenko stripped Saakashvili, who was appointed the Odessa region governor in May 2015, of his Ukrainian citizenship.
However, Saakashvili said in August that he is going to come back to Ukraine from Poland on September 10, 2017.