Russian court acquits "Far Eastern Guerilla gang" members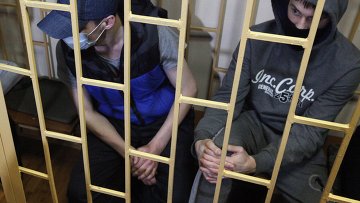 10:55 28/07/2016
MOSCOW, July 28 (RAPSI) – The Primorsky Krai Court has acquitted five men in the criminal case of "Far Eastern Guerillas", proclaiming them innocent of several murders and robbery, RIA Novosti reported on Thursday.
Last week, after a retrial, a jury found the evidence presented by the prosecution not convincing and acquitted the defendants. The retrial was conducted with regard to the murder of four people, who were also robbed of valuables and drugs they had on them, in the Kirov area of the Primorsky Krai.
Defendants Alexei Nikitin and Vadim Kovtun were released in the courtroom while Alexander Kovtun, Vladimir Ilyutikov and Maksim Kirillov were kept under arrest as they were to serve their time in relation to two other criminal cases.
The prosecutors in the case are going to appeal the jury verdict in the Supreme Court of Russia.
The group gained notoriety after a series of assaults on civilians and law enforcement officers in 2010 left six dead.
The "Far Eastern Guerilla" gang was tracked down in a flat in the city of Ussuriysk in June 2011, and surrounded by law enforcement officials.
Two policemen were injured in a shootout with the gang members, two of whom committed suicide, according to the forensic medical examination.
On February 4, 2014 five of the defendants were found guilty by the jury of having participated in a criminal gang, while one was acquitted. Four were convicted for the murder of police officers, and five were convicted for the murder of civilians.