Far Eastern Guerilla gang members convicted by jury of police violence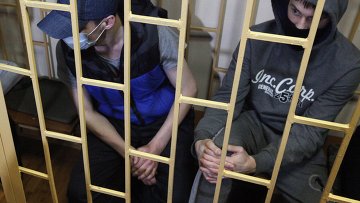 16:53 04/02/2014
MOSCOW, February 4 (RAPSI) – Members of a gang notorious for having waged war on law enforcement officers in the far east of Russia have been convicted of various charges relating to the murders of civilians and officials, RIA Novosti reported Tuesday.
Six members of the gang Far Eastern Guerillas faced numerous counts of murder, robbery, embezzlement, and the illegal possession of weapons.
Five of the defendants were found guilty by the jury of having participated in a criminal gang, while one was acquitted. Four were convicted for the murder of police officers, and five were convicted for the murder of civilians.
The group gained notoriety after a series of assaults on civilians and law enforcement officers in 2010 left six dead.
The gang was tracked down in a flat in the city of Ussuriysk in June 2011, and surrounded by law enforcement officials.
Two policemen were injured in a shootout with the gang members, two of whom committed suicide, according to the forensic medical examination.
Alexander Kovtun was named as the gang's leader. He was convicted by the jury of having participated in one murder.
Kovtun pleaded not guilty to all charges lodged against him. The other five members of the gang pleaded guilty to minor offences they stand accused of, blaming their dead mates for the more serious crimes.
The case against the alleged gangsters reached court soon after they were arrested. The pre-trial process stumbled on several occasions as case files went missing and problems occurred with the voir dire process.
All of the defendants are presently being held in detention. The trial is expected to resume on February 27, when the prosecutors and the defendants' attorneys will deliver their arguments pertinent to the sentencing process.