Court to examine insurers' €10 mln claim against Vnukovo over Total CEO plane crash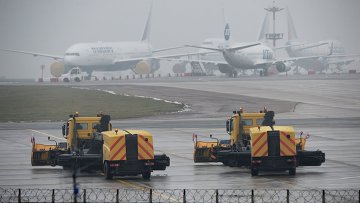 16:29 12/05/2016
MOSCOW, May 12 (RAPSI) – The Moscow Commercial Court has declined a motion asking to dismiss a lawsuit filed by five foreign insurance companies seeking to recover from Vnukovo Airport €10 million in damages resulted from the crash of Total CEO Cristophe de Margerie's aircraft in 2014, RAPSI correspondent reports from the courtroom on Thursday.
The court has also rejected a motion to suspend the respective legal proceedings. Both petitions were put forward by Vnukovo Airport, a defendant in the case, which insisted that the plaintiffs' representative lacked necessary credentials. The court also ruled to bring into proceedings Alfastrakhovaniye company as a third party. The hearing is set for June 15.
"Vnukovo Airport", "Vnukovo International Airport" and "State ATM Сorporation" are named as defendants in the case. Plaintiffs are Berkshire Hathaway International Insurance ltd, Tokio Marine Kiln Insuranse ltd, Mapfre Global Risks Compania, Mitsui Sumitomo Insurance Company и Great Lakes Reinsurance.
The companies have already paid €1 million euro to suffering parties as a compensation for life insurance of the aircraft's crew and passengers as well as €9 million for Falcon 50 EX airplane. Now they seek to recover their losses from persons they believe are responsible for the incident.
Christophe de Margerie died in a plane crash at Vnukovo airport on October 21, 2014, when his plane's wing hit a snow plow. Among the victims were three crew members, all French citizens.
Lead airfield service engineer Vladimir Ledenev, snow plow driver Vladimir Martynenko, air traffic controller Alexander Kruglov, airport flight manager Roman Dunayev, and dispatcher Nadezhda Arkhipova stand charged in the case.