Russian Supreme Court refuses to overturn fish import ban amid sanctions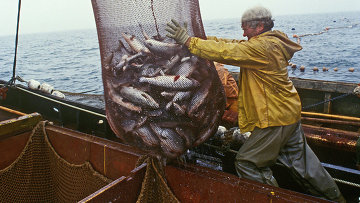 15:01 11/11/2014
MOSCOW, November 11 (RAPSI) – Russian Supreme Court dismissed a claim filed by OJSC Murmansk Fish Factory seeking to overturn fish import ban which had been imposed by Russian authorities in retaliation for western sanctions, reads the statement of the court released on Tuesday.
The factory argued that the self-imposed embargo violates its rights and business interests. It sought to strike live fish originating in U.S, EU, Canada, Australia and Norway from the import ban list.
On September 2, OJSC Murmansk Fish Factory said that it had to cease production due to shortages of fish from Norway.
Norway, which is not a member state of the EU, supported all sanction packages despite strong business ties with Russia, including the latest measures enacted in October.
In late July, the EU followed the US in introducing sanctions against certain Russian industrial sectors over the ongoing conflict in Ukraine. In response, in August Russia suspended food imports from some Western countries for one year. Later some food products, including lactose-free milk and dairy products, young salmon and trout, some vegetables and nutritional supplements, were removed from the blacklist.