Murmansk Fish Factory's suit over fish imports ban to be considered on November 11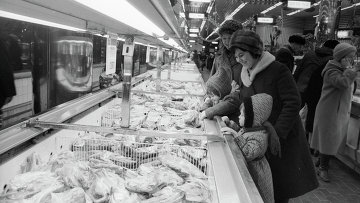 14:39 09/09/2014
MOSCOW, September 9 (RAPSI) - Russia's Supreme Court will consider on November 11 a claim filed by OJSC Murmansk Fish Factory over a ban on food imports from the EU, US and a number of other Western countries, according to the court's website.
The company, engaged in processing of fish products, is seeking to invalidate in part the executive order of the Russian government which halts food imports.
The factory wants the embargo on live fish to be lifted alleging violation of its rights as the executive order allegedly derails its business.
The factory reportedly suspended its work last week due to the shortage of live fish as a result of sanctions. It used to work with Norwegian companies, which provided live fish.
The company claims difficulties with finding other providers because of unique technologies used in its operations.
In late July, the EU followed the US in introducing sanctions against certain Russian industrial sectors over the ongoing conflict in Ukraine. In response, in August Russia suspended food imports from some Western countries for one year. Later some food products, including lactose-free milk and dairy products, young salmon and trout, some vegetables and nutritional supplements, were removed from the blacklist