Families of Lokomotiv hockey team killed in air crash file lawsuit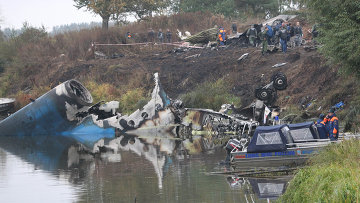 13:13 21/05/2014
MOSCOW, May 21 (RAPSI, Maria Petrova) – Attorney Igor Trunov has filed a suit with the Supreme Court on behalf of the families of the Lokomotiv ice hockey team who died in an air crash outside Yaroslavl, the law firm Trunov, Aivar and Partners announced Wednesday on its website.
The Yak-42 carrying the team crashed 2.5 kilometers away from Yaroslavl Airport on September 7, 2011. Of the 45 people on board, only one crew member survived.
Among the killed in the disaster, blamed on pilot error, were Canadian head coach Brad McCrimmon and a host of former NHL stars and future draft prospects.
The law firm said that Trunov had filed a suit with the Supreme Court to invalidate the agreement between the Russian government and the Interstate Aviation Committee (IAC) on the terms of its operation in Russia.
According to the statement, the IAC "has the power to organize and conduct the investigation of air accidents, to determine the procedure for investigating and preventing air accidents, and to conduct audits of air accidents until the adoption of new air-related legislation."
Trunov believes that the government cannot grant the power to investigate air accidents to any agency other than the country's pretrial investigation agencies, which have the authority to investigate criminal cases, including those connected with air crashes, in accordance with Russia's Criminal Procedure Code.
He also asked the court to overrule several other government resolutions concerned with the procedure for investigating air accidents.
The attorney previously appealed to the Zamoskvoretsky District Court in Moscow to declare the conclusions of the IAC Technical Commission invalid. He said that the commission's conclusions were contradictory, based on supposition and contested by independent professional experts.
Lokomotiv Yaroslavl, founded in 1949 as the team of the Railways Ministry, is one of Russia's leading hockey teams and finished second in the nascent KHL in 2008 and 2009. In 1997 it took the Russian Superleague title (renamed Kontinental Hockey League, KHL) and won back-to-back championships in 2002 and 2003.