Relatives of Russian hockey team perished in air crash demand $3 million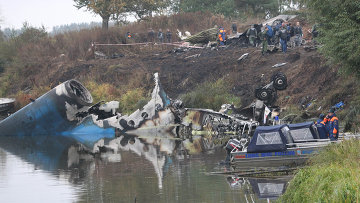 10:52 24/01/2014
MOSCOW, January 27 (RAPSI) – Relatives of the Lokomotiv ice hockey team members who died in a airplane crash in 2012 filed a class action lawsuit demanding 104,8 million rubles ($3 million) in compensation, according to the notification posted on attorney Igor Trunov's website.
According to the statement, Trunov represents relatives of six perished athletes.
The Yak-42 carrying the ice hockey team crashed 2.5 kilometers away from the Yaroslavl airport on September 7. Of the 45 people on board, only one crew member survived. Among the killed in the disaster, blamed on pilot error, were Canadian head coach Brad McCrimmon and a host of former NHL stars and future draft prospects.
The statement names Yak Service, Etalon, Leksgarant, Sogaz insurance group and UralSib insurance group as defendants. The total amount of the claim was compiled of moral damagaes, insurance payments, burial expenses, property damage and the loss of provider compensation.
Lokomotiv Yaroslavl, founded in 1949 as the team of the Railways Ministry, is one of Russia's leading hockey teams and came runner up in the nascent KHL in 2008 and 2009. In 1997 it took the Russian Superleague title and won back-to-back championships in 2002 and 2003