Opposition activist Navalny appeals house arrest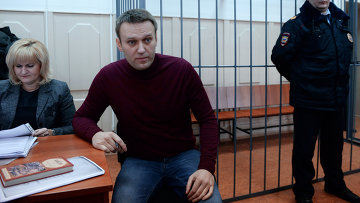 16:23 03/03/2014
MOSCOW, March 3 (RAPSI) – The defense team of renown anti-corruption crusader and opposition stalwart Alexei Navalny has filed an appeal against his house arrest, attorney Olga Mikhailova told RAPSI on Monday.
On February 28, Moscow's Basmanny District Court ruled to place Navalny under house arrest until April 28, in connection to the Yves Rocher embezzlement case. He is prohibited from using any communication devices, as well as the internet. This will effectively halt Navalny's anti-corruption campaign, as it is operated and promoted through his popular LiveJournal blog and Facebook page.
Navalny and his brother Oleg stand accused in a fraud case involving cosmetics company Yves Rocher Vostok. Investigators allege that the Navalny brothers embezzled upwards of 26 million rubles (over $718,536) from the cosmetics company, as well as upwards of 4 million rubles (over $110,000) from the Multidisciplinary Processing Company by way of a fraud scheme. The brothers were further charged with having laundered 21 million rubles.
Investigators allege that Alexei Navalny violated the terms of a restriction notice connected with the case. In January, he was reportedly spotted in the Moscow suburb of Odintsovo, which would imply that he violated the travel restriction imposed by investigators.
He has already been given a suspended sentence of five years for the embezzlement of Kirovles funds.