Opposition activist Alexei Navalny jailed for 7 days for resisting arrest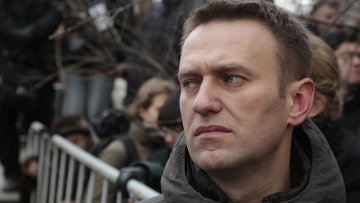 17:43 25/02/2014
MOSCOW, February 25 (RAPSI) – Anti-corruption crusader and opposition activist Alexei Navalny has been arrested and will be detained for seven days following a finding by a Moscow court that he resisted arrest, RAPSI learned in the courtroom Tuesday.
Navalny participated in an unauthorized protest Monday following the sentencing of several activists for their participation in riots that swept central Moscow in May 2012. Eight activists were sentenced to prison terms ranging between 2.5 and 4 years, and one was given a suspended sentence.
Navalny was among 420 of those who were detained soon after the sentencing took place, according to the official Moscow Police tally. He faced an administrative fine up to 1,000 rubles ($30) or 15 days behind bars.
Navalny was accused of having participated in an unsanctioned protest, inciting chaos, and resisting arrest. He denied that he had done anything wrong, reminding the court of a suspended sentence he was handed last year. He stressed that he did not wish to rock the boat.
Navalny was found guilty of timber embezzlement in July. He was sentenced to five years in a penal colony, and his co-accused Pyotr Ofitserov received a four-year sentence. The two were ordered to pay a one million ruble fine between them. In October a court in Russia's Kirov region suspended the sentence.
Boris Nemtsov, an opposition activist and former Duma lawmaker, was detained along with Navalny. He will spend 10 days in detention according to the Tverskoy District Court of Moscow ruling.
Over 400 people were arrested and scores injured in the Bolotnaya Square protest that turned violent in May 2012. Dozens were later charged with inciting mass riots and using violence against law enforcement officers.
Initially, twelve suspects were on the indictment, but four were pardoned pursuant to a broad amnesty spearheaded by Russian President Vladimir Putin in commemoration of the 20th anniversary of the Russian constitution.