Lawyers request Uralkali CEO's release under Russian guarantee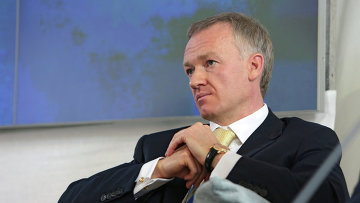 12:55 06/09/2013
MINSK, September 6 (RIA Novosti) – Defense lawyers for a Russian fertilizer company CEO currently detained in Belarus have requested he be released from detention under a guarantee from two Russian politicians.
The lawyers requested that Vladislav Baumgertner, who has been held by Minsk authorities since late August, to be released under the guarantee of Perm Region Governor Viktor Basargin and State Duma Deputy Igor Barinov, one of the CEO's attorneys told RIA Novosti.
Baumgertner, who is the chief executive officer of Uralkali - the world's largest potash producer - was detained in Minsk in late August and charged with abuse of power.
Uralkali claimed the arrest was part of a "politically motivated persecution" related to a commercial battle with Uralkali's fomer Belarusian partner.
In July, Uralkali dissolved an international cartel with Belarusian potash giant Belaruskali, blaming Minsk for selling some of its produce outside their agreement. The move sent shares in fertilizer producers tumbling worldwide and has precipitated a steady fall in fertilizer prices as consumers and traders anticipate increased market competition.
Belarus and Russia have since traded economic sanctions which both sides deny are linked to the business dispute.
After Baumgertner's arrest, Russia announced major cuts to oil supplies to Belarus, while a senior health official made negative comments on the safety of Belarusian milk products.
A few days later, Belarus issued an arrest warrant for Russian billionaire Suleiman Kerimov - the biggest shareholder in Uralkali - also for abuse of power, and reportedly placed him on an Interpol wanted list.
Baumgertner has filed an appeal challenging his detention. Belarusian law limits the preliminary period of investigation into a criminal case to two months, but it may be prolonged at any time if necessary.