Berlusconi sentenced to seven years in under-aged prostitution case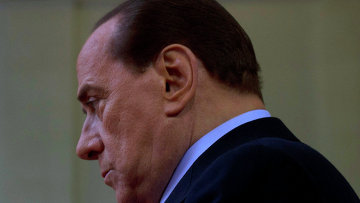 21:45 24/06/2013
ROME, June 24 (RAPSI) - Former Italian Prime Minister Silvio Berlusconi has been convicted of paying for sex with an underage prostitute, RIA Novosti reported Monday.
According to the report, Berlusconi was sentenced to seven years in prison and banned from public office as a result.
The case against Berlusconi was opened in April 2011. Investigators believe that the politician had sex with an underage prostitute, the Morocco-born Karima El Mahroug, who goes by the name "Ruby" and was under 18 at the time, in exchange for gifts and money. The dancer attended parties at Berlusconi's luxury villa at Arcore near Milan.
The verdict is more severe than expected, as the prosecutor sought only six years against the former prime minister.
Berlusconi was not present in the courtroom, though an array of journalists from around the globe packed in to watch as the verdict was handed down.
Berlusconi has found himself embroiled in numerous criminal cases of late.
In March, he was convicted of involvement in revealing confidential information and sentenced to one year in prison over insurer Unipol's failed attempt to take over bank BNL (Banca Nazionale del Lavoro), television channel Rai News24 reported.
The trial, over events that occurred in 2005, started last March. Investigators accused Silvio Berlusconi of the illegal publication of a wiretapped phone conversation between Unipol chief Giovanni Consorte and then-leader of the Democratic Left party, Piero Fassino. The two discussed the deal with BNL. The tape was in the possession of investigators and was confidential - however, on December 31, 2005 the transcript was published. According to investigators, the decision to publish it was made at Berlusconi's villa in Arcore, just outside Milan. As a result, the deal between Unipol and BNL fell through and the latter was later purchased by BNP Paribas.
In October, he was convicted of tax fraud and sentenced to four years in prison in connection with his Mediaset television company, RIA Novosti reported.
According to the prosecution, Mediaset was involved in a scheme to acquire the rights to broadcast movies on Berlusconi's private television networks via shell companies, evading tax payments through false accounting and financial reports.
While Berlusconi was convicted and sentenced to four years in prison, his sentence was reduced to one year based on a 2006 amnesty law aimed at reducing Italy's prison populations.