Opposition whistleblower Navalny moves to exclude wiretap evidence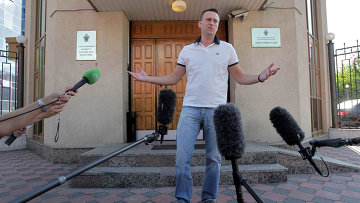 17:16 29/05/2013
KIROV, May 29 (RAPSI) – Opposition activist and blogger Alexei Navalny's attorneys moved at his hearing on Wednesday to exclude evidence acquired via wiretap records from the Kirovles embezzlement case.
Referring to the wiretapping of Navalny and fellow defendant Pyotr Ofitserov, Navalny's attorney Olga Mikhailova stressed that the taped phone conversations were obtained illegally and therefore should not be used as evidence in the case.
Included in the motion was a request directed at Russia's Federal Security Service to reveal the grounds upon which the wiretapping took place and also to specify who transcribed them.
Presiding judge Sergei Blinov said the request will be considered after the written testimonies are examined.
According to the investigators, Navalny organized the theft of over 10,000 cubic meters of timber while serving as a voluntary adviser to the governor of the Kirov Region.
The timber was allegedly stolen from Kirovles between May and September 2009 in collusion with Ofitserov, the director of the Vyatka Timber Company, and Kirovles CEO Vyacheslav Opalyov.
The regional budget shortfall resulting from the transaction has been estimated at 16 million rubles ($510,906).
If convicted, Navalny and Ofitserov face up to 10 years in prison. They will also be ineligible for civil service even if they only receive probation.
Opalyov, who entered into an agreement with the prosecution, has received a four-year suspended sentence.