Opposition whistleblower Navalny's embezzlement hearing postponed til Apr. 24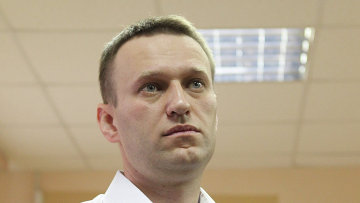 13:32 17/04/2013
MOSCOW, April 17 – RAPSI. The embezzlement trial against whistleblowing blogger turned opposition leader Alexei Navalny was postponed Wednesday for one week in order to provide Navalny's team more time to prepare its defense, RAPSI learned in court.
The hearing has been rescheduled to start next Wednesday, on April 24.
You may find the full text broadcast here.
The postponement was granted in accordance with Navalny's request. He noted that he had not yet exhausted all appeals in his effort to transfer the proceedings from Kirov to Moscow, and that he had not expected the case to move forward in Kirov prior to the final outcome of this decision. He added that he had recently added a local Kirov lawyer to his team. The local lawyer needs more time to prepare.
Prosecutors countered that more time was unnecessary.
The judge held that Navalny's team should be afforded a week to prepare for trial.
Prosecutors for and against Navalny turned up to spread their respective messages outside of the courthouse.
According to investigators, while serving on a voluntary basis as an adviser to the Kirov Region Governor, Navalny organized the theft of over 10,000 cubic meters of timber. It was allegedly stolen from Kirovles company between May and September 2009 in collusion with Vyatka Timber Company Director Pyotr Ofitserov and Kirovles CEO Vyacheslav Opalyov.
The regional budget is estimated to have suffered the loss of 16 million rubles ($514,140) as a result.
Navalny said in the interview with Dozhd TV earlier this month that he expected a conviction in the present case and announced his intention to run for the Russian presidency. His pro-opposition supporters maintain that the case is politically motivated.
Investigators have since opened three other criminal cases against Navalny, on charges ofembezzling from a political party, deceiving an international cosmetics company and conspiring to privatize a central Russia distillery illegally.
The Kirovles embezzlement case reached the Leninsky District Court in the town of Kirov in late March. If convicted Navalny along with Ofitserov faces up to ten years in prison, and will be ineligible for public office even if slapped with probation. Opalyov, who has entered into an agreement with the prosecution, got 4 years suspended sentence.
Navalny is a Yale-educated political activist. He became famous in Russia as a whistleblowing blogger striving to expose corrupt practices. He then gained recognition for his leading role in the opposition movement that rocked Russia from late 2011 to mid-2012.