Trash metal mayoral candidate slapped with DUI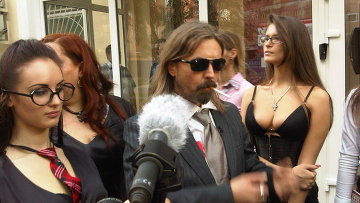 15:48 19/03/2013
MOSCOW, March 19 - RAPSI, Maria Petrova. A court in Moscow suburbs town of Mytishchi has upheld the decision to strip the sole remaining member of a legendary Russian thrash metal band of his license for 21 months for drunk driving, the court spokesperson told RAPSI on Tuesday.
According to the court, Sergei Troitsky caused a traffic accident while driving under the influence on January 1. He pleaded innocent, claiming that he was not behind the wheel.
Troitsky had contested the earlier decision of the magistrate's court. He claimed that his band was traveling to Moscow to take part in a New Year's concert on January 1. Instead of driving himself, Troitsky said, he had hired a "sober driver" to take the wheel.
According to the court, Troitsky's vehicle caused a minor accident near the Borodino supermarket. The hired driver then fled to a nearby forest, Troitsky said. When the traffic police arrived, the musicians allegedly suggested going after the driver, but the police officers refused.
Troitsky claimed that one officer had a "personal aversion" to him as a hard rock musician.
A true heavy metal legend, Troitsky returned to the mainstream headlines during his mayoral campaign in Moscow's satellite city of Khimki. Semi-nude female city administration staff, a zoo filled with mechanical animals, and Germans employed en masse - because "they don't take bribes" - were a few of his campaign promises.
Better known as "Spider," Troitsky is a rock veteran. He is the sole remaining member of the legendary Korroziya Metalla thrash metal band. The band's first album, "The Order of Satan," was released on the group's own label in 1988 after its no-holds-barred content proved too hot even for perestroika-era record companies. Korroziya's outlandish concerts also gained the band nationwide notoriety in the 1990s as "Spider" impersonated Hitler, used Satanist imagery and employed writhing naked women on stage.