Lawyer accuses investigators in Domodedovo terrorist attack of ineptitude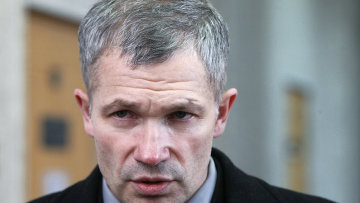 14:46 27/02/2013
MOSCOW, February 27 - RAPSI. Lawyer Igor Trunov, who represents victims of the terrorist attack in Moscow's Domodedovo Airport in January 2011, has filed a request with the Investigative Committee to open a case against the officials who failed to find who was responsible for the violations of the airport's security procedures that led to the tragedy, the Trunov, Aivar and Partners bar association writes on its website.
The lawyer writes that not a single suspect has been found in the case over the past two years and demands that the committee should open a criminal case against the officials investigating the attack.
On January 24, 2011, a suicide bomber detonated a bomb in the airport's international arrivals hall, killing 37 people and injuring 172.
Doku Umarov, Russia's most wanted terrorist at the time, claimed responsibility for the attack.
The group which planned the bombing was led by Aslan Byutukayev and Supyan Abdullayev.
Magomed Yevloyev, a 20-year-old native of Russia's republic of Ingushetia and thought to have been trained by Islamist terrorists in the North Caucasus, was allegedly instructed to explode the bomb.
The prosecutor's office maintains that Islam and Ilez Yandiyev, Akhmed Yevloyev and Bashir Khamkhoyev helped Yevloyev get to Moscow, where he was handed a bomb at an apartment rented by the suspects.
The men also chose the busiest area at Domodedovo for the bombing - the international arrivals hall - and sent Yevloyev to the airport to commit the terrorist attack.
Altogether, 28 militants connected with the Caucasus Emirate terrorist organization have been linked to the attack. Seventeen of them were killed in special operations in 2011 and four have been detained.