Domodedovo terrorist attack victim's claim to be heard Jan.29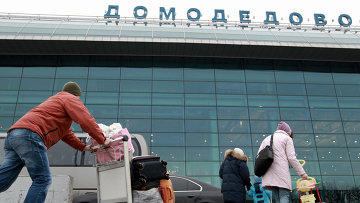 16:21 20/12/2012
MOSCOW, December 20 - RAPSI, Maria Petrova. The Moscow Presnensky District Court will consider the lawsuit of Yelena Krivolutskaya, a victim of a terrorist attack at the Domodedovo airport held in January 2011, on the recovery of 50 million rubles ($1.625 million), her attorney Igor Trunov told the Russian Legal Information Agency (RAPSI/rapsinews.com) on Thursday.
On January 24, 2011, a suicide bomber detonated a bomb in the airport's international arrivals hall, killing 37 people and injuring 172. Investigators said Doku Umarov is suspected of directing an organized criminal group headed by Aslan Byutukayev and Supyan Abdullayev, which planned the attack. Magomed Yevloyev, the alleged bomber, is thought to have trained at a terrorist camp in Ingushetia.
The prosecutor's office maintains that Islam and Ilez Yandiyev, Akhmed Yevloyev and Bashir Khamkhoyev helped Yevloyev get to Moscow, where he was given a bomb at an apartment rented by the suspects. The individuals also chose the most populated area at the airport - the international arrivals hall - and sent him to the airport to commit the terrorist attack.
Krivolutskaya, 49, was at the epicenter of the explosion at the airport, but managed to survive. She was heavily injured and taken to an intensive care unit. She had to undergo several operations, and eventually lost her capacity to work. She has been granted an official disabled status.
During the previous preliminary hearings Trunov promised to get DME Ltd, to which the airport belongs, and Dmitry Kamenshchik, a beneficiary owner of all shares, involved in the case
The airport and Passenger Terminal objected to this and provided a package of documents. Trunov asked to grant him time to familiarize himself with the documents and to specify claims under the lawsuit as he was determined to attract an insurance company to the case. The attorney said that the airport should underwrite his liability before passengers for an amount of two million rubles ($61,521) per individual.