Interior Ministry accuses Magnitsky's lawyers of procrastination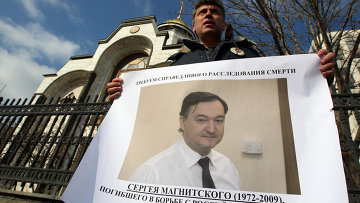 16:41 02/11/2012
MOSCOW, November 2 - RAPSI. The defense of late Hermitage Capital fund lawyer Sergei Magnitsky, who died in a pretrial investigative isolation ward three years ago, are intentionally procrastinating their study of the materials in the criminal case, the Interior Ministrys Investigative Department said on Friday.
"The statement made by the representatives of the funds lawyers, which was published in a number of media and claims that the investigators have prohibited them from further studying the case materials in an effort to conceal violations, should be seen as yet another attempt to pervert the genuine state of things and to discredit the law enforcement authorities," the Interior Ministry said.
"The defendant's lawyers have spent no more than two or three hours a day, several times a week, intentionally procrastinating the terms to study the materials," the department said.
On November 24, 2008, Magnitsky was arrested on suspicion of tax crimes. Shortly after, the Investigative Department of the Interior Ministry accused Magnitsky of colluding with Hermitage Capital in tax evasion.
Magnitsky died in the Matrosskaya Tishina investigative isolation ward on November 16, 2009. According to investigators, Magnitsky died because he was not rendered medical aid in time.
A trial is currently underway over Dmitry Kratov, former deputy head of the Butyrka pretrial detention center where Magnitsky was held for most of his arrest.
Investigators accuse him of improperly carrying out his duties, which, as a result, led to Magnitsky's death.