Documents for Bout's extradition still not ready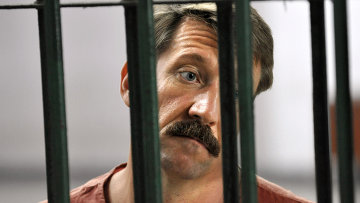 17:36 16/07/2012
MOSCOW, July 16 - RAPSI. The Justice Ministry has not yet prepared the documents required to extradite alleged arms dealer Viktor Bout from the United States, Justice Minister Alexander Konovalov told journalists on Monday.
Earlier, he said Bout's extradition may be arranged, although it's not likely to happen soon. Konovalov added that the U.S. authorities maintain the position that any individual convicted in the United States must serve at least half his sentence in a U.S. prison.
Bout was sentenced to 25 years in prison by the New York Federal Court for planning to sell arms to the leftist Colombian Revolutionary Armed Forces.
The U.S. agents who dealt with Bout presented themselves as the armed forces' commanders. Bout has denied the charges against him.
U.S. Attorney General Erik Holder said the United States might consider sending Bout home to serve his term if the government receives the relevant inquiry from Russia.
The Justice Ministry said the trilateral consent of all the parties involved is required to extradite an individual, including the transferring party, the receiving party and the individual subject to extradition.
The ministry noted that Moscow is ready to discuss Bout's possible return home with Washington.