No grounds to review sentence against former Ukrainian interior minister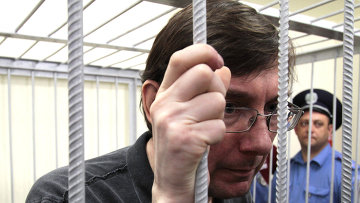 16:15 16/05/2012
KIEV, May 16 - RAPSI. The defense has not provided any facts that would serve as a basis for reconsidering former Ukrainian Interior Minister Yuri Lutsenko's sentence, Prosecutor Dmitry Loban said at the appellate court's hearing on Wednesday.
Lutsenko was arrested in late 2010.
The Prosecutor General's Office charged him with stealing government property and abuse of power. A Kiev district court declared him guilty, sentenced to four years in jail, deprived him of his civil servant's status and ordered the confiscation of his property on February 27.
Loban said during the Wednesday hearing that the Pechorsky District Court's sentence against Lutsenko and his former driver Leonid Pristuplyuk corresponds to the crime's severity. He added that this is why the request to satisfy the appeal to dismiss the sentence was refused.
The prosecutor added that the first-instance court's sentence corresponds with the circumstances of the case and the defense has not provided any facts that could be a basis to dismiss the ruling.
The prosecution added that the first-instance court did not commit any violations while considering the case.