Former Ukrainian interior minister's appeal for release dismissed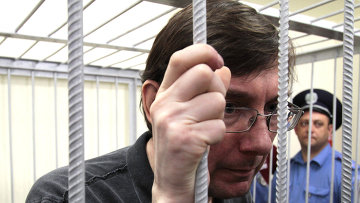 17:15 30/01/2012
KIEV, January 30 - RAPSI. A Kiev district court refused to release from custody former Ukrainian Interior Minister Yuri Lutsenko despite the Parliamentary Assembly of the Council of Europe's (PACE) resolution, the website of Lutsenko's People's Self-Defense party reports.
The corresponding appeal was filed by the minister at a Monday court hearing.
The judge noted that the investigation ward where Lutsenko is kept is taking care of Lutsenko's health. As for the PACE resolution, the judge referred to Ukraine's Constitution, according to which judges only adhere to the law when administering justice.
Therefore, the court found the appeal groundless and refused to satisfy it. In a resolution adopted last week, PACE requested Ukrainian President Viktor Yanukovych to cease the prosecution of former government members and allow them to take part in the October 2012 parliamentary elections. The assembly said sanctions could be imposed on Ukraine if its requirements are not fulfilled.
The former minister was arrested in late 2010. The court has so far dismissed all appeals to release him. Lutsenko is accused of illegally hiring his personal driver at the Interior Ministry and other violations connected with granting him a flat and accruing a pension for him.
During his arrest, Lutsenko went through an extensive hunger strike that resulted in the deterioration of his health. According to his relatives, the former minister has been diagnosed with cirrhosis of the liver, but the penitentiary service has not confirmed the diagnosis.