Former YUKOS top manager released from prison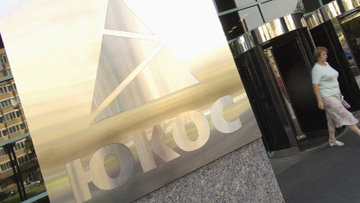 17:31 15/02/2012
MOSCOW, February 15 - RAPSI. Former YUKOS top manager Vladimir Pereverzin has been released from prison after serving out his term, Mikhail Khodorkovsky's press center reported on Wednesday.
Pereverzin was sentenced to 11 years in prison in 2007 for the misappropriation and embezzlement of funds and money laundering.
The court mitigated his sentence by 2.5 years in May 2010 after the Criminal Code money laundering article had been liberalized.
Finally, Pereverzins sentence was reduced by another 14 months after amendments to the Criminal Code came into force in March 2011.
The YUKOS case has been one of the most high profile in Russia in recent years. In the early 2000s, the executives of YUKOS, then the country's largest oil company, were accused of economic crimes. YUKOS then went bankrupt while its assets were transferred to Rosneft. Many believe the case was politically driven.
In 2005, former YUKOS head Mikhail Khodorkovsky and his business partner Platon Lebedev were sentenced to eight years in prison for fraud and tax evasion. In late 2010, a Moscow district court sentenced them to 14 years in prison for oil theft and money laundering. They were expected to be released in 2017, taking into account the time they had already served for their convictions from their first trial in 2005. However, on May 24, the Moscow City Court reduced their sentences by one year. They now may be released in 2016.
Khodorkovsky is serving his sentence at Segezha Prison, while Lebedev is kept at Velsk Prison.