Decision to release martial arts champion on bail quashed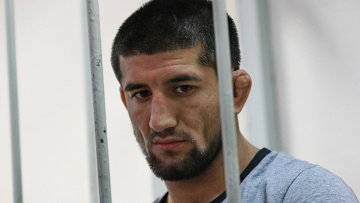 17:44 14/02/2012
MOSCOW, February 14 - RAPSI. The court invalidated on Tuesday the decision to release martial arts champion Rasul Mirzayev on a $3,345 bail.
Mirzayev is charged with reckless homicide in the death of 19-year-old student Ivan Agafonov.
The court has satisfied the appeals filed by the prosecutor's office and Agafonov's relatives.
However, Mirzayev's defense attorney Alexei Grebensky notified journalists of his intent to contest the ruling.
The court has decided to remand the case for another review. Mirzayev will remain in custody until a new decision has been passed on his restrictive measure.
A Moscow district court ruled on Monday to release the defendant on a 100,000 ruble ($3,345) bail for the trial period. The court assumed that his crime is not grave and he had no criminal record.
Law enforcement authorities said Mirzayev punched Agafonov on August 13 near a nightclub in Moscow. Agafonov was taken to a hospital where he never regained consciousness. He died several days later. Mirzayev's counsel insisted on changing the charge to reckless homicide as Agafonov allegedly died of falling on the pavement, as opposed to Mirzayev's punch.
The prosecution demanded on Tuesday to quash the ruling to release him on bail in light of certain circumstances, and asked for the duration of his custody to be extended by a month.
"We regard the trial court's decision as unlawful and unfounded," the prosecutor said.
In the prosecutor's opinion, the court failed to consider that the defendant has no permanent place of residence in Moscow and set a negligible bail amount considering the gravity of his crime.
In turn, Grebensky said the release ruling was fully based on law and said his client will abide by the law if released.