Tymoshenko's daughter describes mother's tortures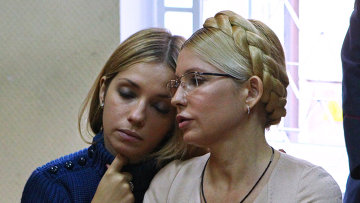 16:09 10/02/2012
KIEV, February 10 - RAPSI. Ex-Ukrainian Prime Minister Yulia Tymoshenko's daughter has submitted to the Prosecutor General's Office a statement that her mother is being tortured in prison, UNIAN reported.
"I submitted a statement about the crimes committed against my mother. She was unlawfully convicted, she is not being rendered medical aid, she feels pain all the time and she cannot move," Yevgenia Tymoshenko told journalists on Friday.
She also said her mother is being forced to move and do physical exercises.
Yevgenia said the medical staff is falsifying data about her mother's health, which she also considers torture.
"She loses consciousness for two hours at a time, but they say nothing happened the next day," she said.
She added that the light is always on in her cell, which she said is also a form of torture.
Her attorney Nikolay Yeryomenko said Yevgenia wants to initiate a criminal case on the matter.
Tymoshenko was sentenced in October to seven years in prison for abuse of power in signing gas contracts between Ukraine's Naftogaz and Russia's Gazprom in 2009. In late December she was taken to a Kharkiv prison. Her attorneys maintain that her health is deteriorating with each day and she needs treatment. However, the prison administration said Tymoshenko's health is fine.
The former prime minister wants an independent medical exam because she does not trust the Health Ministry's doctors. The Prosecutor General's Office reported on Friday that on February 13 German and Canadian doctors will arrive to Ukraine to examine her with local specialists.